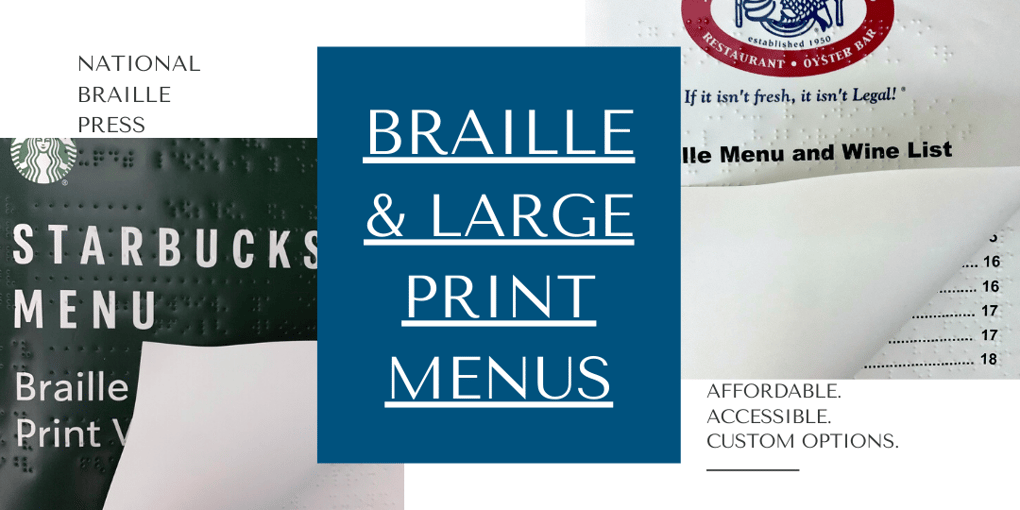 Braille for Every Restaurant
Whether you need 2 or 20,000+, we work with small and large restaurants to produce braille and large print menus that meet the highest standards of excellence in the industry. Our dedicated team works with you to create branded menus that make your restaurants more accessible to blind and low vision diners.
We offer a variety of menu packages to fit every style and budget.
Here are some customer favorites to get you started.
*Estimates based on 10 braille pages per menu.*
Signature Print and Braille Menu on Teslin Stock

Produced in large print and braille, this menu meets our highest quality transcription, production, and materials standards, replacing all of your current menus behind the host stand. Printed on Teslin, a durable stock made from a flexible polymer material that is crisp, white, and easy to clean, this menu will look and feel great in your patrons' hands even after heavy use. Your branding will stand out with full-color font interlined with high-quality braille throughout, reaching all of your patrons with one menu.

1 Copy: $699

5 Copies: $899

10 Copies: $1,099

100 Copies: $2,299

---

Ultimate Print and Braille Menu on Durable Paper Stock

We take your menu to the next level of accessibility with high-quality interlined large print and braille. Printed on heavy-weight paper stock, bound with saddle stitching, and finished with a shiny gloss front and back cover, this menu option offers a polished look that includes color options for your branding on the front and back cover.

1 Copy: $499

5 Copies: $699

10 Copies: $899

100 Copies: $1,999

---

Essential Braille-only Menu on Durable Paper Stock

We'll convert your electronic or paper menu into a braille-only menu booklet embossed on durable paper stock, bound with a comb binding, finished with a printed cover sheet with your branding, and protected by a clear, flexible cover on the front and back of the menu. The Essential Braille-only menu is a great option if you are looking for a durable menu for blind and low-vision customers.

1 Copy: $299

5 Copies: $499

10 Copies: $699

100 Copies: $1,799

Basic Braille Clear Adhesive Labels

Your menu is transcribed and embossed on our durable clear adhesive label stock. Send us an electronic or paper menu, and our team will expertly create a braille transcription of your menu options embossed on a high-quality clear label, trimmed to fit your existing menu dimensions. With the Basic Braille Clear Adhesive Labels, you can affix the trimmed labels to your existing menus, instantly making your menu accessible. Since the labels are clear, they can be affixed anywhere on the page without interfering with the print on your existing menus.

1 Copy: $225

5 Copies: $399

10 Copies: $525

100 Copies: $1,099