SUMMER PICKS 2021
An abridged version of our braille catalog, featuring new products for Summer 2021...
Download the full electronic braille (BRF) catalog here.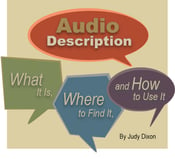 Audio Description: What It Is, Where to Find It, and How to Use It
By Judy Dixon
Note: The DAISY edition of this book will be available mid-July, 2021, but you can pre-order it now! All other formats are available now.
If you've ever tried to watch something on television that you were told would be described, only to find that there was no description, and wondered if you were doing something wrong, this book is for you. Popular technology writer Judy Dixon pulls back the curtain on the dynamic, ever-changing world of AD and shows how to activate it for the major streaming services (Apple TV+, Disney+, HBO Max, Hulu, Netflix, Paramount+, and Prime Video) on the most popular devices (Amazon Fire TV/Fire TV Stick, iPhone/iPad, Android phones, Chromecast with Google TV, Apple TV, and Roku Express). She also covers the history of AD; AD on broadcast and non-broadcast TV; how to find AD content; AD at movies, plays, museums, national parks, and live events; and the future of AD. Includes a foreword by Deborah Kendrick.
Braille (1 vol.), BRF, DAISY, or Word: $12.00 and up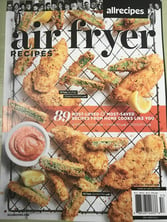 Allrecipes Air Fryer Recipes
By The Editors of Allrecipes
Air fryers are all the rage, but what do you actually do with one? This special edition, Allrecipes Air Fryer Recipes, answers all those questions with the 89 recipes that get saved and loved the most on Allrecipes.com. Who knew you can make Steak and Mushrooms, Banana Cake, Italian Stuffed Tomatoes, and even Lobster Tails in an air fryer? We've also included the site's most popular air fryer recipe: Air-Fried Crumbled Chicken Tenderloins. Includes sections on choosing an air fryer, accessories, tips, and basics for air fryer cooking.
Braille (2 vols.) or BRF: $12.99 and up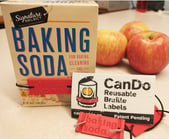 CanDo Reusable Braille Label Sets
No more mystery cans or boxes! These reusable, easy-to-read braille labels make identifying contents of containers a snap. Clip or slip the labels quickly around any package — can, bottle, box, or jar — and then locate them again independently, even if they get shuffled around. Quantities are very limited, so order soon!
New set: Baking box labels: 1 each of baking soda, baking powder, corn meal, powdered sugar, brown sugar, cake mix. $18.00 (Note: This label set contains small parts.)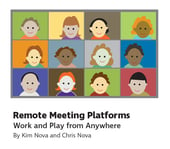 Remote Meeting Platforms: Work and Play Anywhere
By Kim Nova and Chris Nova, Mystic Access
Note: All versions of this book will be available mid-July, 2021, but you can pre-order it now!
If you've heard of remote meeting platforms but don't know how to use them with a screen reader, this book is your friendly guide. Learn the advantages of attending remote meetings, the necessary etiquette to follow, and specific protocols for screen reader users. You're guided through using six of the most popular remote meeting services, including Zoom Video Communications, Microsoft Teams, Google Meet, GoToMeeting, BlueJeans, and Slack. Other topics include hosting remote meetings, less conventional ways to use remote meeting software, and additional tools for meeting remotely without the use of a computer.
Braille (2 slim vols.), BRF, DAISY, or Word: $18.00 and up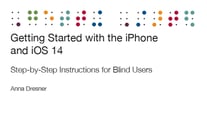 Getting Started with the iPhone and iOS 14: Step-By-Step Instructions for Blind Users
By Anna Dresner
This new edition of our soup-to-nuts tutorial for beginners contains everything you need to know to get started using the iPhone and the iOS 14 operating system. If you like step-by-step tutorials, you'll appreciate the detailed way in which you're guided through setting up your phone, placing calls, entering text, using a Bluetooth keyboard and braille display, and more. If you prefer to look up the commands you need, you'll love the first appendix, which lists the most handy gestures and buttons in an organized manner so you can find the one you want.
Other appendices include troubleshooting tips and a list of resources to help you learn more. Most of the book is relevant for iPod touch users, and since the layout of iPhone Plus screens resembles that of iPad screens, iPad users should find this edition useful as well.
Braille (3 vols.), BRF, DAISY, or Word: $24.00 and up
More New Technology Books

Mac Basics for the Beginning User: macOS 11 Big Sur Update
By Janet Ingber
Braille (1 vol.), BRF, DAISY, or Word: $12.00 and up

Mac Reference Card: macOS 11 Big Sur Update
By Janet Ingber
Braille (1 small vol.), BRF, or Word: $8.00 and up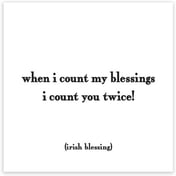 Magnets: The best gifts — for any occasion!
Grab one of these attractive print/braille magnets and add them to a holiday, birthday, or special occasion card for just 5 dollars! Buy an assortment to have on hand for any occasion.
NEW: "When I count my blessings, I count you twice!" (Irish blessing)
See all of our print/braille magnets here.
Print/braille magnets: $5.00 (free shipping!)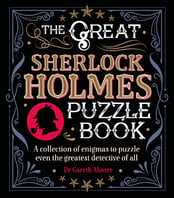 The Great Sherlock Holmes Puzzle Book: A Collection of Enigmas to Puzzle Even the Greatest Detective of All
By Dr Gareth Moore
Pit your wits against the greatest detective of them all with this fiendish collection of over 130 puzzles and enigmas. Presented as conversations between Holmes and Watson, these puzzles involve riddles, plays on words, and mathematical problems. Use your powers of logical deduction, and see if you can match the towering intellect of Sherlock Holmes! Ages 10 and up!
Braille (2 vols.) or BRF: $10.00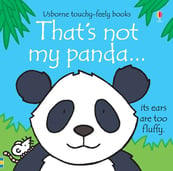 That's Not My Panda!
A delightful addition to the award-winning "That's Not My..." board book series. Babies and little children will love exploring the soft, fluffy, rough or fuzzy textures on the pandas.
Print/braille board book in uncontracted UEB: $8.99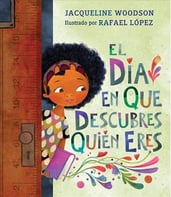 An Instant Classic from Jacqueline Woodson — in English or in Spanish!
There will be times when you walk into a room
and no one there is quite like you.
National Book Award winner Jacqueline Woodson offers a poignant, heartening book about finding courage to connect, even when you feel scared and alone. She reminds us that we all feel like outsiders sometimes — and how brave it is that we go forth anyway.
The Day You Begin: Print/braille picture book in English: $18.99
El día en que descubres quién eres: Print/braille picture book in Spanish: $18.99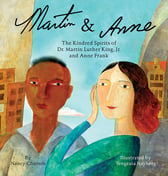 Martin & Anne: The Kindred Spirits of Dr. Martin Luther King, Jr. and Anne Frank
By Nancy Churnin and Yevgenia Nayberg
They seem to be from different worlds, different lifetimes, but they were born the same year: 1929. Across the ocean, they faced similar racial hatreds and reacted to that hate with words of love, reaching out to build understanding rather than divisiveness. Martin & Anne tells their inspiring stories, encouraging all of us to choose kindness whenever we can.
Print/braille picture book in UEB: $17.99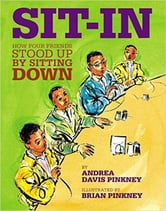 Sit-In: How Four Friends Stood Up by Sitting Down
By Andrea Davis Pinkney and Brian Pinkney
This picture book is a celebration of the momentous Woolworth's lunch counter sit-in, when four college students staged a peaceful protest that became a defining moment in the struggle for racial equality and the growing civil rights movement. Andrea Davis Pinkney uses poetic, powerful prose to tell the story of these four young men, who followed Dr. Martin Luther King Jr.'s words of peaceful protest and dared to sit at the "whites only" Woolworth's lunch counter that eventually led up to the 1966 Supreme Court ruling against racial discrimination.
Print/braille picture book in UEB: $18.99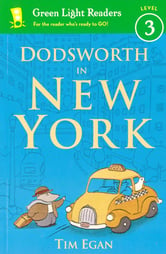 Dodsworth in New York
By Tim Egan
Dodsworth wanted adventure. He wanted to see the world. He especially wanted to visit New York City. What he didn't want was to be joined by a duck. A mischievous and comical duck. Young readers will laugh out loud at the duck's silly antics as Dodsworth has the unexpected adventure of his life in the Big Apple . . . and beyond.
Print/braille picture book in UEB: $5.00
Massive braille download sale!
Download and store these books before they disappear on August 31st!
Though NBP moved exclusively into using the Unified English Braille code (UEB) back in 2016, we still have a handful of useful books in downloadable electronic braille format (BRFs) in the old, English Braille American Edition code (EBAE). To help us clean up our database, we plan to remove these older BRFs, but not before we give you a chance to download them at a huge discount! We're offering these books as downloads (only) for $5.00 each between now and August 31, 2021. For book descriptions, click through to the ordering pages.
Note: After you purchase the books, please download them and store them; after August, they will not be available from our website at all.

Order any of our books or products via mail, web, or phone.
Everything is sent Free Matter for the Blind unless otherwise indicated, or you can pay for UPS service.

National Braille Press
88 St. Stephen Street, Boston, MA 02115
Toll-free: (800) 548-7323
(617) 266-6160 extension 520
FAX (617) 437-0456
orders@nbp.org
www.nbp.org